Flat Roof Installation on Long Island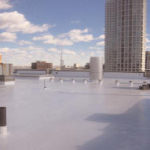 For over thirty five years we have ensured that our clients and customers are one hundred percent satisfied with their flat roofing. Whether you need minor repairs or an entire installation job, we can keep your flat roofing look the best that it could possibly ever be. We service all through New York, especially Long Island, Nassau County, Suffolk County, the Hamptons, Queens, Manhattan and Brooklyn.
Our professional staff is prepared and committed to providing the absolute best service when it comes to your flat roofing, and we have all of the necessary tools and solutions to do so. We also bring our A game with our quality services and products through our partnering companies, such as Owens Cornering, GAF and CertainTeed, and we give you nothing but professional customer service. All of our employees are trained, highly skilled and have the experience that you need to complete your flat roofing job, no matter how big or how small this job may be.
To get into contact with us or receive a quote for your job, start by entering your personal and project information into the boxes on the right side of this page. Once we have calculated your personalized quote, we will personally call you to set up a further appointment.