Roof Maintenance on Long Island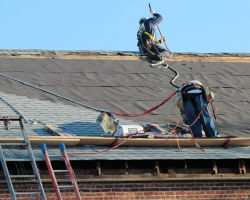 Although some roof systems take less maintenance than others, all roofing systems should be checked periodically to be sure that they are free of debris and your gutters and drains are clear. You should have your roof inspected once a year, but more than one time if it's very old.
New Roof Long Island is a platinum preferred roofing contractor with Owens Corning serving Long Island. We have offices across Nassau County, Suffolk County, The Hamptons and Queens NY.
Please contact New Roof Long Island Today at 631-488-1420 for roof maintenance on Long Island.