Roof Inspections on Long Island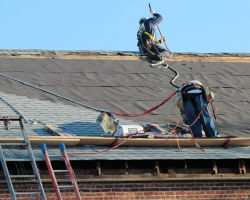 Roof Inspections require a trained, skilled professional who is qualified and knows what to look for.  If you are purchasing a new home, it is a good idea to get a Roof Inspection.  Our Roof Inspections service is not costly, but could save you a lot of money down the road.  Most home owners insurance companies will also send out a Roof Inspector so it's a good idea to do your own and know ahead of time if you have to replace your roof.
When you work with us, we will send a qualified roof inspector to walk the entire area of your roof to identify and photograph all of the deficiencies on the roof. Our roof inspectors are trained to spot not only the obvious problems with your roof, but the ones that the untrained eye would never see. Once the general inspection is finished, the inspector will write up a document stating what needs to be fixed and we will send it to you.
If you require our Roof Inspections services, call today or enter your information in the boxes located to the right of this page.