Flat Roof Repair on Long Island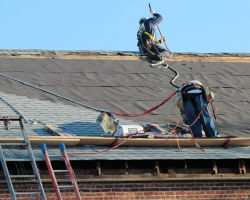 If you need your Flat Roof repaired on Long Island, New Roof Long Island is the answer. We service the Nassau and Suffolk county! Contact us today for roof repair.
Leaks are an inevitable when dealing with a flat roof. If you have a flat roof, chances are that it is already leaking or will begin to leak soon, even if your roof is fairly new and only installed in the past 10 years. New Roof Long Island will help you understand your options, as well as fix your emergency issue right away.